ZIP 33i
Exceptional Value in a Feature Rich IP Phone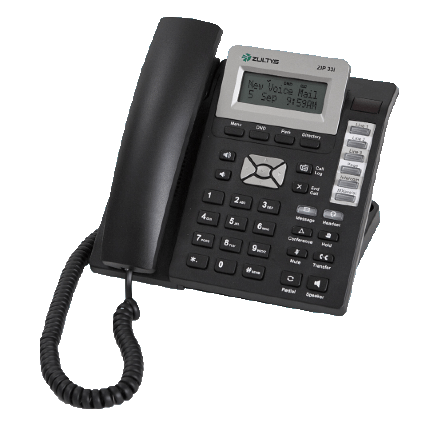 The ZIP 33i combines a 3 line display including icons, 6 programmable keys, dual Ethernet ports with Power over Ethernet (PoE) and a dedicated headset port, in an easy to use, cost effective, business IP phone.
The ZIP 33i is fully compatible with Zultys' award winning MXIE Unified Communications desktop client, allowing users to perform call control tasks such as answer, hold, transfer, park and initiate calls from their computer without needing to touch the phone. Like all Zultys phones, the ZIP 33i utilizes the Session Initiation Protocol (SIP) open standard and may be fully provisioned and managed from the Zultys MX Administrator graphical interface ensuring rapid deployment and the industry's lowest total cost of ownership.
Key Features and Benefits
Remarkable Audio
Full-duplex speakerphone with acoustic echo cancellation, combined with high quality wideband HD speaker, microphone and handset components ensure conversations are always loud and clear, at the same time minimizing fatigue for heavy phone users.
Ideal for local and remote staff
Using Zultys' unique MXconnect feature, Zultys IP phones may be deployed at remote locations or home offices and securely connect over the Internet to the corporate phone system without the need for complex virtual private network (VPN) equipment.
Ease of Use
The ZIP 33i phone has been designed with ease of use as a priority. Dedicated keys for commonly used functions such as Voice Mail, Conference, Hold, Mute, Transfer, Redial, Do Not Disturb, Park/Pickup, Call Log and more ensure the user is able to concentrate on the call at hand rather than how to drive the phone. In addition 6 programmable keys are available for Line Appearances, Busy Lamp Field (BLF), Speed Dial, Park Slot Monitoring and more.
Simplified Deployment
From initial deployment and configuration to future enhancements and upgrades, the Zultys ZIP 33i is designed to save your business time and money. Dual auto-sensing switched Ethernet ports eliminate additional wiring and simplify installation. Integrated IEEE 802.3af Power-over-Ethernet and low power consumption ensure rapid deployment while minimizing your carbon footprint. Full support for industry standard VLAN and QOS networking protocols ensure voice is always treated with the highest priority across your network. Simple centralized provisioning is provided via the Zultys MX Administrator graphical management interface providing a single point of management for the complete Zultys 'All-in-One' unified communications solution.
6 programmable keys
Full-duplex speaker phone
3 line display including icons
Local 3-way conference
Dedicated headset port
Busy Lamp Field (BLF)
Distinctive ringing
8 ring tones plus custom tones
Personal directory
Call forward/Call transfer/Call waiting
One-touch call transfer and conference
Call park and pick up
Display of caller and called line information
Call Log and Redial
Missed call notification
Call timer
Paging and Intercom auto-answer capabilities
Do Not Disturb key
VLAN, DSCP and QOS support
SIP open standard
802.3af Power-over-Ethernet
Wall mount kit included